Added on September 25, 2017
Whitney Burch
Batman v Superman , cars in film , diana prince , ghost car , invisible car , justice league , Lotus Evora , national comic book day , superheroes , tesla roadster , Wonder Woman
Wonder Woman's Rumored Ride
It's been four months since "Wonder Woman" was released and acclaim for the movie and the heroine lives on. Directed by Patty Jenkins, this film experienced the best opening ever for a female-directed title. It also gleaned the best global haul for a live-action female-directed film. The fact that it was the top-grossing film of the summer testifies that Wonder Woman has a large fan base.
Set against the backdrop of World War I, the movie depicts the back story of Diana Prince (played brilliantly by Gal Gadot)—how she came into her own and started doing her part to help save the world from the evils of human nature (World War I, in this case). The movie is full of kick-ass fight scenes in which Wonder Woman assails enemy soldiers armed with her ferocious feminine strength as well as her supernatural shield, wrist guards, and lasso. The plot keeps viewers on the edge of their seat, as both Diana and the story's love interest, Steve Pine, actively hunt for the villain behind the latest scheme of the Central Powers.
As riveting as the film was, there was a serious lack of cool car scenes. Though there is that nifty moment-of-glory when she hurls an armored vehicle at her foes.
Granted, the setting is Europe circa 1914-1918. The automobile was in its early stages of evolution. With boxy frames and simplistic wheels, some looked more like a fuel-driven buggy than modern car prototype. Not the swift, potent ride that Wonder Woman deserves. So, it's not surprising that we don't get a glimpse of the mighty Amazonian chugging around in one of these clunkers.
---
Coming in 2019: Early Glimpse of the Chevy Silverado

---
With a sequel planned for a December 13th, 2019, release, fans are left dangling—and pondering if Diana will get her own car. After all, she's due for an upgrade from the invisible jet she has been seen occasionally piloting.

In "Batman v Superman: Dawn of Justice," she makes a brief appearance slipping into the driver's seat of what looks like a Lotus Evora.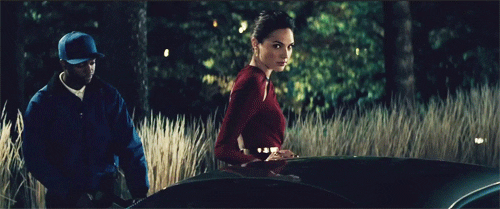 But there are rumors that "Wonder Woman 2" will be set in World War II, as would be chronologically logical considering the first movie's time period. So, maybe this 1939 Pontiac Ghost Car would be more period-correct.
Personally, I go with the hint of the Lotus Evora clip. If she does have wheels, it'll be an Evora or some other aerodynamic, wind-slicing ride like this semi-invisible Tesla Roadster concept.
Wonder Woman could get her car as early as November 17 of this year, when "Justice League" (the "Batman v Superman" sequel) releases. Fingers crossed (or wrists crossed?) that Diana Prince gets a dynamic, unwavering ride to suit her staunch character.
---
Running the Gauntlet: Chevrolet Colorado ZH2 undergoes testing

---
News Sources: Deadline, Harpers BAZAAR
Whitney Burch is a current resident of Dayton, though her spirit can be found beach-bumming on Puerto Rico (the land of her half-Puerto Rican heritage). When not adventuring through the exciting world of car news, she can be found hiking with her fiance and their 1-year-old Labrador, motorcycling, reorganizing and/or decorating some corner of the world (most likely in yellow), researching random things, scribbling on her blog, and escaping into a great movie, poem, or short story. See more articles by Whitney.