Added on March 9, 2018
Zachary Berry
Google , Google Maps , Google Maps Easter Egg , Mario , Mario Kart , Nintendo
Google and Nintendo Bring Mario Kart to Google Maps for Mario Day
Beginning March 10, Mario fans will be able to embark on a journey with their favorite Italian plumber while using Google Maps
Nintendo icon Mario is a man of many talents. Not only is he a plumber, but he's also talented at tennis, Olympic sports, and, perhaps most famously, go-karting, as demonstrated throughout the Mario Kart series of games.
Mario is now getting ready to take his automotive antics to the streets, at least virtually, thanks to a collaboration between Nintendo and Google. Beginning tomorrow, you can replace your usual Google Maps icon with one resembling Mario on his trusty kart.
---
Mario Goes Mobile: Nintendo Is Bringing Mario Kart to iPhone and Android Devices by March 2019
---
The campaign is being launched to celebrate Mario Day, which annually takes place on March 10 (aka Mar10). Google Maps app users will be able to activate the Easter egg for an entire week.
To transform your usual Google Maps route into a track from the Mario Kart games, you will first need to update your Google Maps app from Google Play or the App Store. After doing so, you'll see one of the iconic yellow "?" blocks from Mario's games appear in the bottom right corner of your Google Maps interface.
If you choose to click on the block, you'll be prompted to enable what Google is calling "Mario Time." Doing so will provide you with a miniature motorist Mario wherever you travel to.
---
A Definitive Ranking: Top 5 Best Mario Kart Wii Courses
---
Google is also encouraging users to chronicle their journey with Mario over social media. Fans can take a screenshot of their route and share it with @GoogleMaps on Twitter and Instagram using the hashtag #MarioMaps.
This latest Easter egg from Google Maps delivers a bonafide Mario Kart experience while you map out a journey of your own. Thankfully, Google and Nintendo decided to leave out the banana peels and blue shells for this experience.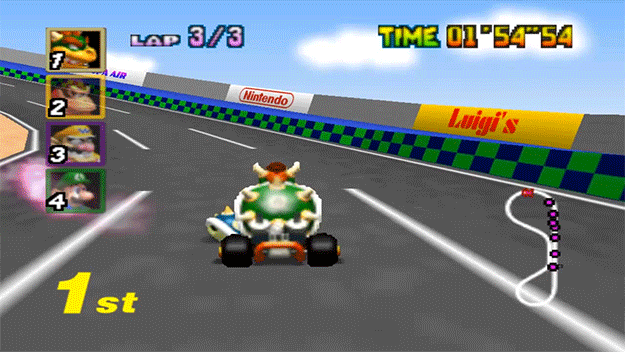 Source: Google
Zachary Berry currently resides in the Dayton, Ohio area. However, he enjoys traveling from place to place, as he was born in Oklahoma City and has also lived in Albuquerque and Orlando (such is the life of a military brat). Zachary graduated from Ohio University with a major in Strategic Communication, which is fancy talk for advertising and public relations. Beginning his career at The News Wheel as a lowly intern, he was able to climb his way to the top, eventually claiming his place within the last cubicle on the left. Other jobs that Zachary has held include driving around a safari truck at Disney's Animal Kingdom. When he's not putting his nose to the grindstone, Zachary enjoys watching and critiquing movies and television. See more articles by Zachary.