Added on November 21, 2018
Whitney Russell
best cars for brides , best cars for wedding weekend , best Chevy Vehicles for Your Wedding Weekend , Camaro , Equinox , Silverado , Suburban , Volt , Wedding Transportation
5 Best Chevy Vehicles for Your Wedding Weekend
If you have an upcoming wedding, it's likely that making sure your vehicle can accommodate both you and your dress is the last thing you want to worry about on your Big Day. If you'll be embarking on a honeymoon right after the reception, or simply need space to haul boxes of decorations for the venue, then picking a vehicle with ample cargo space should be an additional priority for your chosen transportation.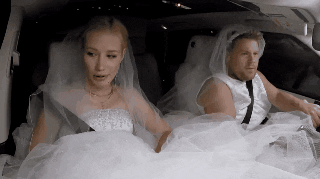 Here are the best Chevy vehicles to suit different types of brides and wedding styles.
---
Sedan: Volt
The 2019 Chevy Volt is perfect for the minimalist bride who cares about the environment and has only a few pieces of luggage to transport. It can go 53 miles on electric power alone when fully charged. A cargo volume of 10.6 cubic feet is sufficient for accommodating suitcases. It also has space for transporting a wedding dress if you lay the garment bag flat in the backseat, or flip down the split-folding seats to expand the trunk area.
---
Performance Car: Camaro
For the sporty bride who wants to make a stunning grand entrance or a speedy getaway with her groom after the reception, the 2019 Chevy Camaro should suit. It can go from zero to 60 mph in just 5.4 seconds. Plus, a vintage model in action makes an edgy backdrop to post-ceremony pictures, as this couple can testify.
---
Small SUV: Equinox
The 2019 Chevy Equinox is a great choice for the bride who values efficiency for transporting decorations and luggage to and from the venue and the hotel. With the back seats folded flat, this SUV boasts a maximum cargo volume of 63.9 cubic feet. Such a roomy interior capacity makes it well-suited for couples who are hitting the road to head to their honeymoon destination right after the wedding.
---
Full-Size SUV: Suburban
The 2019 Chevy Suburban is an apt choice for the bride who has a ballgown style dress with a full train — and who needs copious cabin room to transport a bridal party to the venue. It can seat up to seven people, though you can upgrade to the LS version to accommodate up to nine passengers.
---
Truck: Silverado
Perfect for the country bride who wants a brawny truck to take her from the venue into the first day of her married life, the 2019 Chevy Silverado 1500 is a capable choice. With a towing range of 6,700-9,900 pounds, it's also a wise option for the relocating bride who needs to tow a small trailer of luggage and decor to an out-of-state venue.
Whitney Russell resides in Dayton, though her spirit can be found beach-bumming in Puerto Rico (the land of her half-Puerto Rican heritage). When not crafting car-related content, she can be found chasing after the most amazing toddler in the world, watching her "beaver" of a husband build amazing woodworking projects, hanging out with two crazy dogs, and visiting family and friends. She also enjoys traveling, crafting, and binge-watching period dramas when time allows. See more articles by Whitney.