Added on December 20, 2018
The News Wheel
distracted driving , Emergency Kit , holiday road trip safety tips , print out a map , tdlr , texas drivers
A Safe Driving Reminder from the TDLR
The Texas Department of Licensing and Regulation (TDLR) released some tips earlier this week, to help keep Texans to stay safe while traveling during the holidays. It's a great reminder to all of us, to make sure our vehicles are road-ready and implement safe driving techniques as we journey to visit loved ones. Here are just some of the TDLR's suggestions.
---
Terrific Towing: Meet the 2018 Chevy truck lineup
---
Before the trip
Check the weather forecast for your travel route. If storms are predicted along your route, allow for more travel time. Consider downloading an app like Weather on Wheels, to help you monitor the weather during the drive.
Print out a paper map of your travel route, in case you're traveling through remote areas and your GPS stops working due to the lack of cell reception.
Pack an emergency kit in case the vehicle breaks down. Here are some tips for which items to include in the kit.
Replenish fluids (antifreeze, oil, windshield wiper fluid, etc.) and inflate the tires in your vehicle. It's also a good idea to inspect the windshield wipers to make sure they don't need replacing.
During the trip
Stay focused on the road, if you're driving. Consider giving another passenger in the car "phone duty," to avoid texting or other smartphone-related distractions while behind the wheel.
Be patient. Holiday traffic is often heavy, so mentally prepare yourself for possible delays along the route.
Monitor gas levels, especially if you're driving through bad weather or through rural areas.
Make sure everyone stays buckled up during the drive. Stop approximately every two hours to stretch (and change drivers, if need be).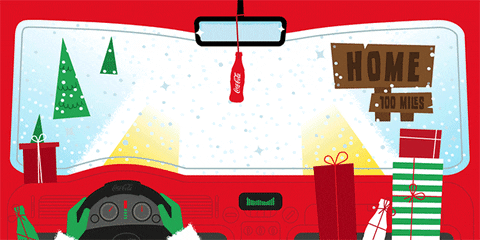 Stay safe while road-tripping this season. And Happy Holidays from all of us here at The News Wheel!
---
Efficient and Family-Friendly: Discover the 2018 Chevy SUV and crossover lineup
---
News Source: ConchoValleyHomepage.com
The News Wheel is a digital auto magazine providing readers with a fresh perspective on the latest car news. We're located in the heart of America (Dayton, Ohio) and our goal is to deliver an entertaining and informative perspective on what's trending in the automotive world. See more articles from The News Wheel.