Added on June 30, 2018
The News Wheel
Chevy Colorado , cheyv silverado , fourth of july snacks , happy july 4th , Independence Day , patriotic snacks , red white and blue snacks , tailgating recipes
Fourth of July Snacks for Tailgating Parties
If you own a Chevy truck, what better way to celebrate Independence Day than by tailgating and watching fireworks? Here are four snack recipes to keep the hunger at bay this holiday, while you celebrate with friends.
Flag Fruit Tray
This mostly-healthy piece of art is simple to assemble. Simply gather cherries, blueberries, strawberries and marshmallows. Next, layer the fruit in stripes to resemble the American flag, as depicted in the picture above. Keep refrigerated until ready to transport the treats to the tailgate location.
Watermelon Pops
For a lighter spin on cake pops, try these scrumptious fruit pops. All you'll need is one watermelon; some red, white, and blue straws; a star-shaped cookie cutter. Slice the watermelon, then cut off the rind. Use the cookie cutter to slice out star cut-outs from the watermelon. Skewer the watermelon stars with the straws.
Cheesecake Stuffed Strawberries 
Philadelphia cheesecake filling is the main ingredient that makes this treat taste so decadent. Though you can substitute cheesecake-flavored Jello for a lighter filling. You'll also need strawberries, blueberries, and lollipop sticks or skewers. Follow the instructions in the video for a step-by-step guide to creating these patriotic crowd-pleasers.
Patriotic Puppy Chow
White chocolate, powdered sugar, rice Chex, sprinkles, and vanilla extract are the key ingredients you'll need to concoct this crunchy confection. It's a festive take on conventional puppy chow, if you're a fan of white chocolate or are inviting tailgating guests who are addicted to it.
Stay safe tailgating this holiday, while you celebrate not just the freedom of living in America but the independence that stems from owning your own vehicle. Especially when it's a Chevy truck like the Silverado or Colorado.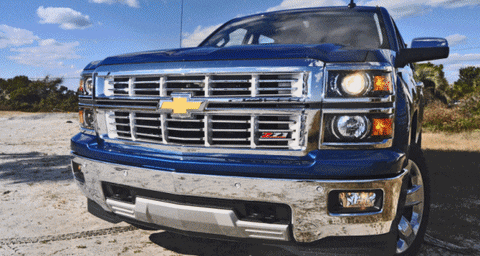 The News Wheel is a digital auto magazine providing readers with a fresh perspective on the latest car news. We're located in the heart of America (Dayton, Ohio) and our goal is to deliver an entertaining and informative perspective on what's trending in the automotive world. See more articles from The News Wheel.