Added on July 30, 2018
The News Wheel
de-skunk your car , how to remove skunk smell from your car , ran over a skunk , vinegar , what to do if your car gets sprayed by a skunk
How to Remove Skunk Smell From Your Car
Skunks are common roadkill victims that often leave a lingering stench on your vehicle's exterior. Sometime, this smell can permeate to a vehicle's interior, which makes driving a stinky endeavor. Discover how to remove skunk smell from your car after an unfortunate encounter with this putrid animal.
---
A Legacy of Uncompromising Strength: Discover the 2018 Chevy Silverado
---
[wptab name='#1′]
Exterior
Start with the car's exterior. The usual soap and water ingredients you use for regular car washes simply won't be effective in eliminating the skunk smell. Fill a garden sprayer with distilled vinegar and liquid dish detergent, and combine. Wash the tires and undercarriage of your car with this mixture. The more skunk spray that got on your vehicle, the more vinegar/soap mixture you'll want to spray on the vehicle. Next, hose off your car with water, to rinse. Dry with towels. If the smell still lingers on your vehicle after one hour of washing it, repeat the vinegar/detergent wash. If you only use the effected vehicle occasionally, Alicia Bodine with Hunker.com suggests layering charcoal on a tarp then placing it under the car. The charcoal will help absorb the stench so you can enjoy riding in an odorless cabin once again.
[/wptab]
[wptab name='#2′]
Interior
If your car's upholstery and carpet reeks of skunk, then you'll want to implement the following remedies. For cloth seats, combine water and vinegar in a spray bottle then mist the upholstery, as well as the car's carpet. Let the solution sit for a few minutes. Next, use a clean towel or cloth to wipe up the mixture. If you have leather or vinyl seats, mix a solution of one part linseed oil with one part vinegar. Use a towel to rub the solution into your seats. You can also try using a carpet deodorizer, like the one from Arm & Hammer, on cloth upholstery and the carpet of your vehicle.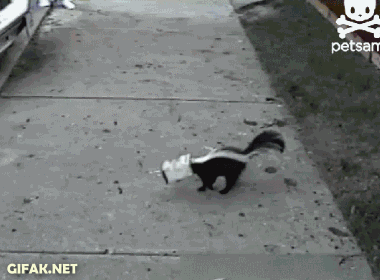 Hopefully, these DIY solutions will help eliminate the skunk
smell
from your vehicle. If the skunk smell lingers, however, schedule an auto appointment with your a professional mechanic or a reputable car detailing shop.
[end_wptabset]
---
Upgrade Your Ride: GM accessories to refresh your Chevy
---
News Sources: Hunker, It Still Runs, Pigeon Forge Rod Runs