Added on December 15, 2018
The News Wheel
Finland , germany , hardest places to get a license , international Driver's License Application Processes , Japan , lengthy driver's license applications , Saudi Arabia
Rigorous Driver's License Application Processes Around the World – Part 1
While all new drivers must complete driver's ed and driving exams to obtain a license, the process is a bit lengthier depending on which country you're in. Here are four countries with pretty arduous documentation and testing requirements for applicants.
Saudi Arabia
There's a long list of required documents you'll have to procure and steps to complete before you can get a driver's license in this country. You'll need documents confirming your blood group and eye test results. You'll also need a resident permit, a passport-sized photo, and a notarized Arabic translation of the license. Finally, you'll pay for a resident permit online, complete driving school sessions, take a preliminary trial and successfully pass final exams.
Finland
The road to a driver's license is definitely delayed in Finland. Before you can get a regular license, you must successfully pass a two-part exam, then obtain a two-year provisional license. After the two years are up, you'll complete 19 theory lessons and 18 hours of practical lessons to master driving principles. You'll also learn about car maintenance since driving through police safety check points is a normal part of commuting in Finland. The driving exam itself might require you to demonstrate your skill driving on icy roads and driving at night. You'll also

Japan
This country requires you to provide proof of vehicle and parking space ownership, to start the process of getting a Japanese driver's license. You must also provide a residency card, certificate of residency, passport, and any previous licenses (if you have any). You'll also have to take a practical and theory test along with an aptitude exam which tests for vision, hearing, physical fitness, and color blindness.
Germany
Getting a German driver's license will cost you more than $2K. You can also expect to spend at least 25-45 hours of professional driver's ed, as well as 12 hours of driving theory. Required documentation includes a passport, proof of First Aid certification, and a recent vision test. The written exam is so hard that approximately 30 percent of candidates don't pass it the first time. And you must also complete at least four practical driving exams before you receive a license.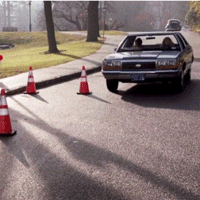 News Sources: Daily Mail, World Atlas, German-Way.com, MotorWeek, Japan Driver's License
The News Wheel is a digital auto magazine providing readers with a fresh perspective on the latest car news. We're located in the heart of America (Dayton, Ohio) and our goal is to deliver an entertaining and informative perspective on what's trending in the automotive world. See more articles from The News Wheel.